Post-Frame Metal Roofing & Siding
Post-frame metal roofing is an attractive option for homeowners who wish to invest in their homes. This material is beautiful, cost-effective, durable, and has excellent structural integrity. This material can last decades and can be attached directly without needing an OSB decking layer. FBI Contracting panels are highly durable, so they will not rust easily.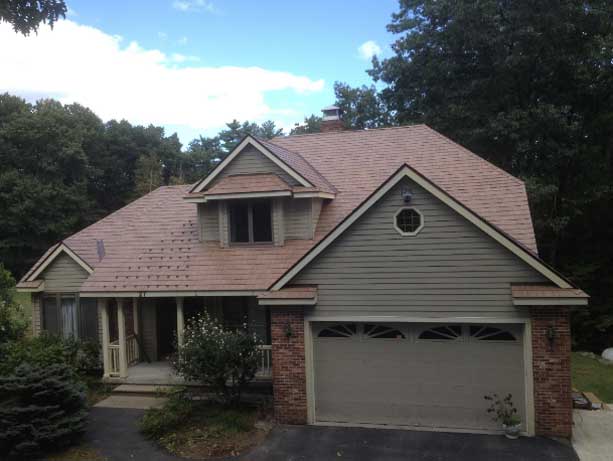 "FBI Contracting Repairs All Types of Metal Roofs in Wilmot, New Hampshire!
Metal, Asphalt, Slate, Wood, and More!"
Address(Main Office):
18 The Town of Rockingham Rd #85
Concord, NH 03301
Satellite Office:
11A Cofran Ave
Tilton, NH 03276
ADVANTAGES OF POST-FRAME METAL ROOFING AND SIDING
Post-frame construction is the most common building method for pole barns. It isn't limited to any particular design. You can use post-frame construction to build a variety of buildings, such as houses, barns, buildings for municipalities, and agricultural buildings. Posts are used to support the structure, and they can be embedded in the ground or attached to a concrete foundation. The roof frame is made of engineered wood purlins linked by 2×4 purlins and placed on top of the post. The structure is topped off with premium metal panels for durability and sleekness.
COST EFFICIENT
Post-frame structures are more cost-effective than those built on cinder block foundations because they are usually constructed on concrete slabs rather than cinder blocks. It is also more efficient and faster than other structures, resulting in lower labor and material costs.
ENERGY EFFICIENT
Post-frame buildings with metal roofing and siding will be more comfortable because they reflect radiant heat from the sun.
Quicker Assembly
Post-frame homes are built more quickly than traditional stick-built houses. This building is constructed with the best quality materials for steel roofing or siding panels, and it takes less time to make than other types.
LOW MAINTENANCE
Metal roofing panels and sidings are low-maintenance options that can be excellent for livestock owners with tight budgets who want to save money.
VERSATILITY
Steel panels are often used outside of post-frame structures. Steel roofs require minimal maintenance once they are correctly installed on your property. Steel roofs don't require painting like wood shingles. This means you won't have any problems with shingle discoloration, chipping, or peeling during storms.
FLEXIBILITY
You can build various structures using a combination of a metal panel and a post-frame design. Post-frame construction, unlike frame buildings, allows for an open floor plan design. It also allows you to use blocks, wood, and brick to give your building a unique look. You can also choose from various exterior finishes for your post-frame constructions. You can select from trim, doors, or roofing siding to match your style.
FBI Contracting has a variety of accessories to help you complete your next project, and FBI Contracting can help you make your dreams a reality. For a free quote, contact customer service today.
TESTIMONIALS
"F.B. I Contracting near Wilmot recently completed our roof project, and we are incredibly pleased and satisfied with the quality of service, product, and outstanding craft. We selected the Kassel Wood metal roofing, which was installed by F.B.I. Contracting's completely amazing workers. They worked safely, with accuracy and craftsmanship, and did a complete site clean-up and review each day that they were here. We also had 1 of our four roof windows replaced by F.B.I. And the quality of the installation, both inside and out was excellent.
F.B.I. Contracting's the owner/operator, Frank, I Berger presented an honest and complete estimate for the project (1 of 3 estimates we received) and followed through to the letter. He has been responsive to our email and phone questions and has even made a recent visit back out to check on what turned out to be an unrelated older roof window's condition. Even though the window was not an issue from the roofing job, Frank still took the time to help us out with the problem. Simply put, we recommend F.B.I. Contracting to any who seek quality and professionally completed roofing project!."
Pam Sanderson
"Frank and his crew were terrific. Frank called the week before and said I would be there Monday morning at 7. He was there; all the men came and got to work. They were charming and took their work seriously. They worked hard and stayed each day until about 4 pm. When Frank first came to the house in Wilmot to talk to us, he came prepared. With materials and information in hand, he explained everything; we knew what to expect. It was a pleasure to have workers who did their work with pride and did it well. I was hugely impressed. They also never left a mess at the end of each day. It took five days to put our new metal roof on our house, and IT LOOKS BEAUTIFUL!!!!
I would recommend F.B.I. Roofing anytime, and if I need something done again I will not hesitate to call F.B.I., they do all kinds of construction work."
Mike and Doreen S.
"Just had a roof installed near Wilmot, NH. Could not be happier with the quality of work, the Kassel and Irons Roof, and the Professionalism of Frank and his crew. Very Courteous and clean up thoroughly after every day of work. Always on time and make sure everything is right.
I would hire them again and again. My roof looks the best in the neighborhood.
They take their time and make sure everything was correct and with precision. For spending a good bit of money on a roof, Frank made the experience an enjoyable one. Check his references here and on Angie's List. You will not be disappointed."
Terry Hannigan