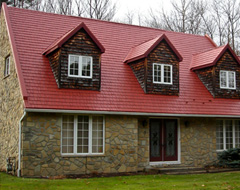 FBI Contracting is New Hampshire's leader in cutting edge metal roofing innovations. While many consumers liken a metal roof to images of old, rusty barns and sheds, today's metal roofs come in a wide array of colors, styles, and materials, such as copper, that can complement any home's design. Additionally, properly installed metal roofs can last as long as a lifetime, which is about twice as long as the life expectancy of an asphalt roof. They also require far less maintenance, which can save homeowners a lot of time and money through the years.
In the past, roofing could be a long process that left homeowners with an inconvenient mess to clean up. Fortunately, thanks to the Equipter RB4000, our staff can work more quickly and efficiently while protecting your lawn and landscaping from falling debris. The RB4000 allows our workers to effectively manage debris while also working 25% to 30% faster, so we can skillfully get your home looking back to normal and free from debris much faster than the competition.
Our metal roofing systems utilize a CIDAN K-15-30 automated folding machine, which is made by the world leader in sheet metal folding and manufacturing. Our CIDAN K-15-30 can fabricate custom copper roof panels and accessories with exact precision to give your home a clean, crisp roofline that will keep its strength and shape over time. We also offer Standing Seam, as well as Kassel & Irons metal roof shingles. Kassel & Irons is the nation's premier metal shingle manufacturer, and they proudly make their shingles right here in the U.S. Kassel & Irons offers an array of captivating slate and shake profiles in a variety of different colors, textures, and metals, so no matter what look you want to display on your roof, we can bring your vision to life.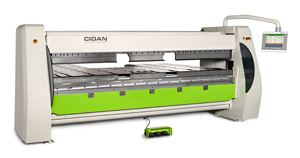 More and more New Hampshire homeowners are turning to FBI Contracting for the distinctive elegance of metal roofing styles. Our metal roofs can look great on any structure, from an historical bungalow to a contemporary colonial, so no matter what type of home you have, we can build you a metal roof that you'll be proud to display on your home for years to come. Contact FBI Contracting today to speak with a skilled contractor who will help you find the ideal metal roofing solution for your home.