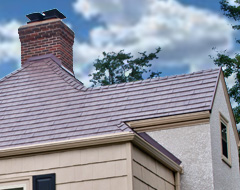 FBI Contracting, LLC is New Hampshire's premier home contracting service, specializing in metal roofing, as well as windows, siding, skylights, and more. We strive to provide our customers with exceptional service and the highest quality craftsmanship. From our vehicles to our employees, we are fully insured, and in order to maintain the highest level of quality, we do not subcontract any of our projects.
We're dedicated to providing you with unparalleled customer service, and we do not employ sales people in order to take the pressure out of your experience. We receive approximately two-thirds of our business from referrals by previous customers, and we'll continually strive to provide you with a high level of quality and professionalism that you would feel comfortable recommending to your family and friends.
We've built a reputation as skilled craftsman and have received honors and awards for excellence. We pride ourselves in an unending effort to improve our company, so our team spends several weeks each year learning the latest techniques and achieving certification for the newest standards and regulations. We also implement the latest technologies to ensure that every job we complete meets the rigid quality standards and exceeds our customer's expectations.
We know that your home is the biggest investment you'll ever make, and we're dedicated to helping you maintain and protect that investment. Whether you want to experience the lasting quality and durability of a metal roof, or you're getting ready to tackle another home improvement project, contact us today for a free in-home consultation.
New Hampshire BBB – Accredited since April, 2003
Kassle & Irons – 5-Star Award 2009, 2012, 2013, 2014
BBB – Perfect Record Status Award 2007 – 2013
BBB – Torch Award for Business Ethics (Finalist) 2014
Angie's List – Super Service Award 2012
Simonton Windows – Preferred Installer – May, 2011
Harvey Windows – Training Program – April, 2013
Certainteed Window Master – April, 2007
Certainteed Certified 5-Star Green Siding Contractor – April, 2007
Certainteed EverNew Vinyl Decking & Railing Master Craftsman – April, 2011
Velux Skylight Specialist – June, 2011
Vinyl Siding Institute Certified Installer Program – 2008-2014
Therma Tru Door Certification Program – March, 2006
EPA Lead Safety Remodeler – April, 2010
National Roofing Contractors Association – Member since September, 2006
Metal Roof Alliance – Member since June, 2006
Harvey Industries Metal Systems Training Program – April, 2003
Kassle & Irons Metal Shingle Training – March, 2008
Drexel Metals Standing Seam Certified Installer – May, 2011
Certainteed SELECT Shingle Master Company – April, 2012
IKO Shield 2000 Certification Program – April, 2002
Owens Corning Preferred Green Contractor – October, 2007
Owens Corning Top of the House (blown in insulation) – February, 2012