For many homeowners, natural light is both aesthetically pleasing and energy saving, which is why they choose to install skylights throughout their home. They're also a popular choice for commercial buildings. Skylights have been a popular architectural feature for thousands of years, dating back to the ancient Roman empire. Glass skylights were introduced during the Industrial Revolution and have steadily gained in popularity since then. Skylights not only allow natural light to brighten up the rooms of your home, but they also add dimension and can make a room seem larger than it is. With varying styles and constructions, skylights can seamlessly blend in with any decor while adding accenting elements of expression.
FBI Contracting offers a full line of quality skylights with a wide range of limitless designs, such as classic skylights, vaulted skylights, unit skylights, low profile skylights, and the new solar skylights. Our skilled contractors are certified Velux Skylight Specialists, and they have extensive experience installing skylights on a wide arrange of structures, so no matter what type of roofline you have, we can help you find skylights that will look great both outside and inside of your home.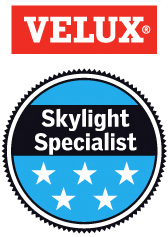 Our Velux Skylight Specialists are prepared to provide customized versatility for any residential or commercial skylight project, so whether you're looking for skylights to enhance the natural light in your home, or you're looking for an attractive way to cut energy costs in your commercial building, contact us today to speak with a skilled skylight expert who will help you find the ideal skylighting solution for you.