Get the Top-Rated Best Local New Hampshire Metal Roofing Repairs Done Right the First Time in Pittsfield NH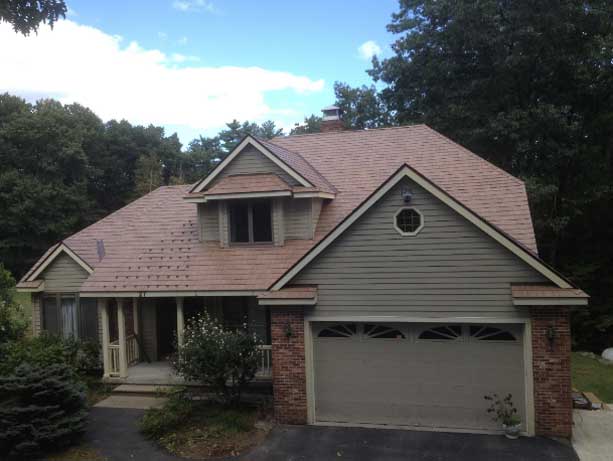 "FBI Contracting Repairs All Types of Metal Roofs in Pittsfield, New Hampshire!
Metal, Asphalt, Slate, Wood, and More!"
Address(Main Office):
18 The Town of Rockingham Rd #85
Concord, NH 03301
Satellite Office:
11A Cofran Ave
Tilton, NH 03276
F.B.I. Contracting is hands down The Best Metal Roofing Company in Pittsfield, NH, and Frank, the owner, helps you maintain and protect your BIGGEST investment – your home in Pittsfield. Whether you're searching online for best metal roofing repairs near me in Pittsfield, NH, or you're taking on another home improvement construction project, contact us today for a consultation.

Residential & Commercial New Hampshire Metal Roofing Repairs Done Right the First Time in Pittsfield NH
F.B.I. Contracting: Metal Roofing Company Pittsfield NH
Did you know Metal Roofing installation adds a Significant Value to your Pittsfield NH home? Need metal roof installed, included stripping old roof and installing skylight and gutter covers.
Contact F.B.I. Contracting for all for metal roofing, window replacement & siding needs in Pittsfield NH & surrounding cities in New Hampshire. We are a local remodeling company located near central N.H. Pittsfield +Tilton that provides the best products, service, and warranty.
F.B.I. is not a "sales first" type of remodeling company; we put our customers first. We do not employ salespeople from a car lot and send them over to invade your home. We also do not subcontract our projects to other contractors. We are the responsible contracting company for Pittsfield, NH.
Did you know Metal roofing adds up to increased property values for your home in Pittsfield, New Hampshire? Whether it is a mortgage broker viewing your house in Pittsfield or a buyer, your metal roof in Pittsfield becomes an asset! Why? Residential metal roofs installed in Pittsfield have a positive, respected reputation for the best roofing products in Pittsfield, NH. Homeowners near you in Pittsfield value their homes roofing construction quality, and the roofs appeal and lifespan, and energy efficiency to saving money.
Are You Wondering how metal roofing products hold up against high winds, hail, pelting rain, or snow accumulation? Do you want to increase your house's property value in Pittsfield, New Hampshire? The average lifespan of a shingle roof in Pittsfield is about 12-20 years if installed by a roofing contractor. But a metal roof in Pittsfield installed by the metal-metal roofers can last over 50 years while showing little sign of aches and pains from old age. If you're replacing an old roof in Pittsfield or planning new construction, wouldn't you like this to be your last roof installation in Pittsfield?
Are you interested in a metal roofing home upgrade in Pittsfield that will generate a return on investment? Even if you are planning to sell your home in Pittsfield New Hampshire or own it for years to come, you'll find that the metal roof benefits in Pittsfield New Hampshire will help you in a big way. No worries! F.B.I. Metal roofing near you in Pittsfield New Hampshire has engineered roofing supplies and products to withstand even the hottest and most frigid weather. Metal roofs are also resistant to mold in Pittsfield, mildew, and rodent damage in Pittsfield, contact F.B.I. Metal Roofing Contractors near you in Pittsfield NE and get valuable information from your Pittsfield, NH area metal roofing company!
Do you want a metal roof that improves the curb appeal and beauty of your home?
Do you want to add home improvement curbside real estate value and appeal in Pittsfield a big way? Then investigate your many options for customizing your repaired or installed Pittsfield metal roofing package for your house in New Hampshire. Choose your metal roof color, style, and roofing materials to create a uniquely beautiful metal roof for your home in Pittsfield, New Hampshire. Make a big statement architecturally speaking when you partner with F.B.I. Metal Roofing repairs in Pittsfield, your premium top-rated best local metal roofing company you can trust near you in Pittsfield, New Hampshire.
Are you worried about the impact on the environment when you replace your roof in Pittsfield? Then you will be glad to know F.B.I. Metal roofing in Pittsfield has products made mostly of recycled materials and is itself 100% recyclable. Better yet, you can have metal roofing installed in Pittsfield over an existing shingle roof, eliminating the disposal of old roofing materials near you that might end up in a landfill.
Our Services in Pittsfield NH
1) Metal Roofs
2) Skylights
3) Windows
4) Siding & Decking
Benefits of Metal Roofing in Pittsfield vs. Shingle Roofing: Which Should I Choose?
If you live Pittsfield New Hampshire and are considering your metal roofing vs. Shingle roofing options, please give us a call! F.B.I. Roofing Contractors near you in Pittsfield, NH, can provide you with expert roofer's supply and product information, transparent pricing, and help you determine the best roof in Pittsfield for your wants and needs.
Metal Shingles Pittsfield, NH
Do you want the benefits of metal roofing, with a unique and beautiful esthetic home improvement roof in Pittsfield? If so, you will love our Pittsfield metal shingle roofs! Metal shingles in Pittsfield provide a classic look without ever molding, splitting, or warping or rotting.
Metal Tiles Pittsfield, NH
Do you want the curb appeal of a clay tile roof in Pittsfield but don't want to invest in expensive construction maintenance? Did you know that with metal tiles, you can enjoy the beautiful curves of a clay tile roof in Pittsfield, NH, combined with the strength and lightness of aluminum or stone-coated steel near you for the Pittsfield New Hampshire areas?
Metal Shake Pittsfield, NH
Do you like the value of a wood shake roof in Pittsfield near you but need something more practical? Do you have more traditional tastes? Our metal shake roofs in Pittsfield combine advantages like durability and low maintenance, and broader color options for classic beauty.
Discover huge benefits of low Weight Metal Roofing Construction in Pittsfield New Hampshire
Did you know that buying a metal roof to get installed for a property in Pittsfield NH can save you up to 40% on your annual energy costs?
Metal Roofs near me in Pittsfield NH are -constructed to lower buildups of heating temperatures inside your home in Pittsfield by reflecting solar energy in N.H., which reduces your heating and cooling air-conditioning costs in Pittsfield. You should also see a reduction in your heating utility bill during the winter months because metal roofing in Pittsfield is considered a world-class insulator!
Get Benefits in Pittsfield from having Low Weight Metal Roofing Installed
Typical shingle roofs on the house near you in Pittsfield New Hampshire can weigh as much as parking five or six vehicles on top of your home. A low weight aluminum roof on the house in Pittsfield NH can lower that down to less than the weight of some Minivans. And in the distinctions where areas in snow loads can add even more weight to the top of a house, this creates an essential picture for Pittsfield homeowners. Another consideration is the need to care for aging structures.
A foot of New Hampshire snow on a roof in Pittsfield by itself could weigh as much as 20 pounds per square foot.
Low weight roofing installed in Pittsfield also means that fewer raw materials are going into producing the roof and have a smaller carbon footprint. And, of course, heavy weighted installed roofing also usually equates to a lot of eventual landfills when the cover wears out and should be removed. Low weight roofing in Pittsfield also has enormous benefits for other areas of the country. In fire-prone states like California, tile roofs are often replaced because of the roof's fire resistance when appropriately installed by a licensed roofing contractor. The flip side is a lot of added weight loaded created by these types of metal roofing supplies. If a fire starts inside a home near you in Pittsfield New Hampshire, our local firefighters in town know that a heavy roof in Pittsfield increases the chances of the rooftop caving in as a threat.
Metal Roofing in Pittsfield offers the most lasting roofing options, and, thanks to interlocking panels installed, it does not need to be hefty to be wind resistant in New Hampshire.
Frequently Asked Questions About Metal Roofing in Pittsfield, New Hampshire
How can I inspect my house's rooftop in Pittsfield, NH, if I do not own a ladder?
You could always try using a pair of binoculars. If you want to avoid climbing a ladder to inspect your roof, They're a safe and effective alternative! You could also check the homes attic to Look for damp insulation or mold and to see if you have water damages in Pittsfield.
Is getting a metal roof installed in Pittsfield more expensive than a shingle roof?
Yes, Metal roofing prices are more comparable to tile or cedar shake roofing. You can expect to spend less than a slate roof in Pittsfield and 2x as much as an asphalt shingle roof installed on your house in Pittsfield. A metal roof installed for your home in Pittsfield is the best high-quality roofing products because of a reputation for longevity and durability and.
Will a metal roof matches the style of my neighborhood and home in Pittsfield, NH?
Metal roofing's wide variety of styles, colors, and patterns to choose from – Today's residential Pittsfield NH metal roofing looks like standard roofing material – such as cedar shake, asphalt shingle, clay tile, or slate roofing – only more reliable and more durable.
Does metal roofing install in Pittsfield last longer than asphalt or wood shingles?
Yes, did you know that Metal roofs last 30-50 years or more.? Metal roofs last, 2 to 3 times longer than the average roof's 12-20-year lifespan. The life of a metal roof depends mostly on the quality of the roofing installation job done by the right roofing company near you in Pittsfield, NH.
Is metal roofing noisier than slate, cedar shake, asphalt, or tile roofs in Pittsfield?
No, because your home attic insulation absorbs most of the sound from outside. During rain or hailstorms in New Hampshire, today's metal roofing installed is no noisier than other roofing materials, and this is simply a common misconception from the early days of rustic metal roofs established in Pittsfield.
Is metal roofing too heavy for some smaller structures and Pittsfield homes?
Surprisingly, the weight of a metal roofing system installed on your home in Pittsfield is never an issue. Did you know an average metal roof in Pittsfield is 50% lighter than an asphalt shingle roof and 75% lighter than concrete tiles, cement shakes, and slate?
Zipcodes we serve near Pittsfield
03218 03263 03233 03257 03287 03304 03258 03263 03220 03276 03263 03307 03229 03242 03234 03242 03278 03216 03231 03235 03046 03275 03301 03106 03275 03224 03303 03235 03268
TESTIMONIALS
"F.B. I Contracting near Pittsfield recently completed our roof project, and we are incredibly pleased and satisfied with the quality of service, product, and outstanding craft. We selected the Kassel Wood metal roofing, which was installed by F.B.I. Contracting's completely amazing workers. They worked safely, with accuracy and craftsmanship, and did a complete site clean-up and review each day that they were here. We also had 1 of our four roof windows replaced by F.B.I. And the quality of the installation, both inside and out was excellent.
F.B.I. Contracting's the owner/operator, Frank, I Berger presented an honest and complete estimate for the project (1 of 3 estimates we received) and followed through to the letter. He has been responsive to our email and phone questions and has even made a recent visit back out to check on what turned out to be an unrelated older roof window's condition. Even though the window was not an issue from the roofing job, Frank still took the time to help us out with the problem. Simply put, we recommend F.B.I. Contracting to any who seek quality and professionally completed roofing project!."
Pam Sanderson
"Frank and his crew were terrific. Frank called the week before and said I would be there Monday morning at 7. He was there; all the men came and got to work. They were charming and took their work seriously. They worked hard and stayed each day until about 4 pm. When Frank first came to the house in Pittsfield to talk to us, he came prepared. With materials and information in hand, he explained everything; we knew what to expect. It was a pleasure to have workers who did their work with pride and did it well. I was hugely impressed. They also never left a mess at the end of each day. It took five days to put our new metal roof on our house, and IT LOOKS BEAUTIFUL!!!!
I would recommend F.B.I. Roofing anytime, and if I need something done again I will not hesitate to call F.B.I., they do all kinds of construction work."
Mike and Doreen S.
"Just had a roof installed near Pittsfield, NH. Could not be happier with the quality of work, the Kassel and Irons Roof, and the Professionalism of Frank and his crew. Very Courteous and clean up thoroughly after every day of work. Always on time and make sure everything is right.
I would hire them again and again. My roof looks the best in the neighborhood.
They take their time and make sure everything was correct and with precision. For spending a good bit of money on a roof, Frank made the experience an enjoyable one. Check his references here and on Angie's List. You will not be disappointed."
Terry Hannigan